Let's Honor the Fallen With Moment of Remembrance
The National Moment of Remembrance (established by Congress and organized by the White House Commission on Remembrance) asks all Americans to observe a special Moment of Remembrance on Memorial Day. Read more... To download flyer for easy printing (PDF, 0.6 MB) right-click (or Ctrl-click) here & click Save Target As.
Adoption Success!
Congratulations to Brother Chris & Sister Cheryl Levier, and all the Leviers and Reeds! Chelsi and Dylan are now legally Leviers since the formal adoptions were completed successfully on Friday, May 23, 2003. The biological father, who originally sought to withstand the adoptions legally, was a no-show in court. We thank God for answering prayer. Now the man they call "Daddy" really is—legally. Please note: Pray for the Leviers in their new home in Mt. Sterling, KY. We'll have at least one last opportunity to see the Leviers at our church on Sunday Morning, May 25, 2003. Be sure to give them congratulations and a big hug, and let them know they'll be in our prayers.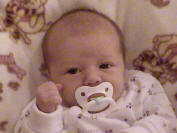 It's a Boy!
Congratulations to Brother Adam & Sister Brandy Benedum, and all the Benedums and Claypools! Tyler Nathaniel Benedum was born at 12:27 AM, on Thursday, May 8, 2003. This is their first baby. Weight: 7 pounds, 7 ounces. Length: 21.5". Click to see photo at full size.