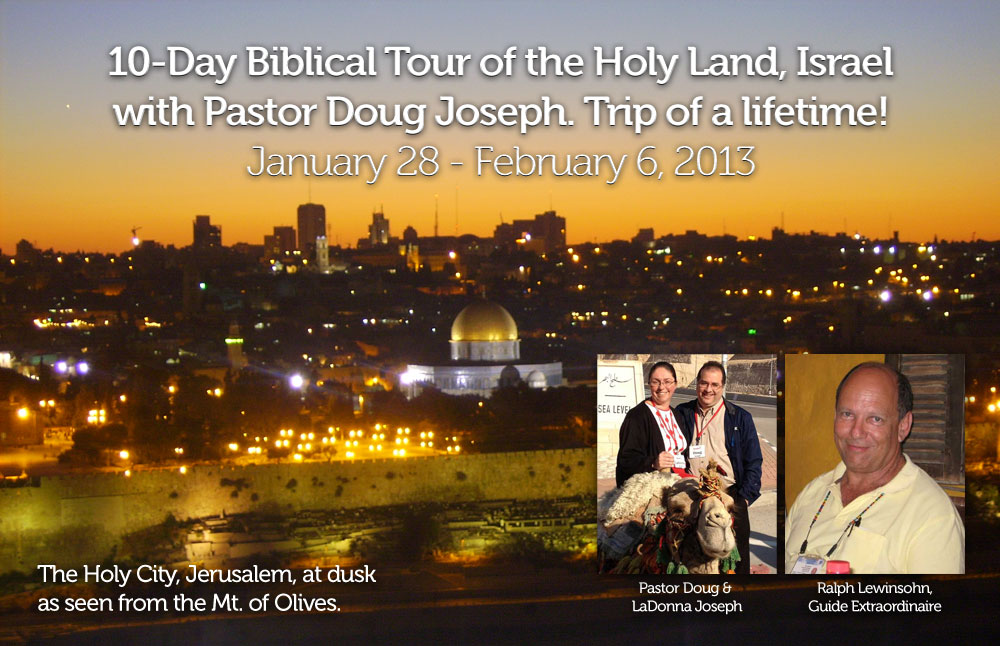 10 Day Biblical Tour of the Holy Land, Israel. Trip of a lifetime!
Dates: January 28-February 6, 2013
| | |
| --- | --- |
| Tour Guide: | Tour Host: |
| The most excellent Ralph Lewinsohn has been confirmed as our guide! He is the best we have ever seen. He speaks at least four languages (Hebrew, English, German, & Afrikaans). He will provide us the most astounding and wonderful tour you could ever imagine. Raised in Namibia, he now resides in Israel. | Doug Joseph is a veteran of several trips to Israel. Doug is an author, teacher, and pastor. He is experienced and knowledgeable and will lead you in an awesome and unforgettable tour of the Holy Land! He is an ordained minister in the United Pentecostal Church International. He pastors in Clarksburg, WV. |
Itinerary:
DAY 1 – DEPART USA – JAN. 28
Tour members meet in appointed departure cities to begin the journey to Israel. (If one of the above departure cities is not near to you, consider contacting us to arrange for a departure city nearer to you.) Eventually, all tour members meet together at the international depature airport. We board the plane for our overseas journey. After dinner is served (as we fly over the Atlantic Ocean) sit back and relax, enjoying the on-board entertainment as you prepare for this exciting adventure of a lifetime – walking where Jesus walked.
DAY 2 – ARRIVE TEL AVIV – JAN. 29
In Tel Aviv we are met by our agent who assists us through customs and security. We transfer to our luxury motorcoach for a short drive to our hotel in Netanya, in time for our welcome dinner and overnight in the Netanya area. We already have rooms booked at the gorgeous Seasons Hotel Netanya, which overlooks the Mediterranean Sea.
DAY 3 – CAESAREA, MEGIDDO, MT. CARMEL, NAZARETH, CANA, GALILEE – JAN. 30
Today we depart for the Galilee, visiting the following Biblical sites: Caesarea where Peter proclaimed the Good News to the Roman Centurion (Acts 9 & 25), Megiddo, Mt. Carmel where Elijah prayed and God defeated 450 prophets of Baal with fire from heaven (1 Kings 18). Time permitting we'll stop at the Druze Village for a short lunch break (lunch is on your own). We continue to Nazareth (Luke 1 & 2) and Cana (John 2). While in Cana, where Jesus performed his first miracle at a wedding reception, those who would like to will have opportunity to renew their marriage vows. We'll arrive in Tiberias for dinner and overnight on the shore of the Sea of Galilee. We already have rooms booked at the opulent Caesar Premier Hotel Tiberias, which overlooks the Sea of Galilee.
DAY 4 – GALILEE, NAZARETH VILLAGE, MT. OF BEATITUDES, CAPERNAUM, BOAT RIDE, JORDAN RIVER – JAN. 31
There is nothing like watching a sunrise on the Sea of Galilee from our hotel. We begin our sightseeing with a drive to Nazareth to visit the "Nazareth Village" with detailed explanations of what life was like during the time of Jesus. Afterwards we make our way to the Mt. of Beatitudes (Matthew 5-7), with time for reflection and worship.
We make our way to Capernaum (Jesus' base for His early ministry) where we board a replica wooden "Jesus Boat" for our boat ride on the Sea of Galilee. Our lunch stop includes the option of the special St. Peter's Fish for those interested (not included). Afterwards we see Gadara and then make our way to the River Jordan and the opportunity to step into that special river. Dinner and overnight in Tiberias.
DAY 5 – GOLAN HEIGHTS, CAESAREA PHILIPPI, TEL DAN, BEIT SHEAN, JERUSALEM – FEB. 1
After breakfast we travel north for the Golan Heights and view the Galilee area from a special lookout. We drive to Caesarea Philippi, where Peter made the good confession of Jesus as "the Christ, the Son of the living God" (Matthew 16:13-16). We will have a short hike/walk to Tel Dan where we will see the gate of Jeroboam and Gideon Springs. Afterwards, a visit to Beit Shean, one of the best preserved Decapolis Roman cities. In Beit Shean, the bodies of King Saul and his sons were hung from the city walls (1 Samuel 31:10-12) after they were defeated by the Philistines. We then ascend to the majestic city of Jerusalem in time for dinner and overnight. "I was glad when they said to me, 'Let us go to the house of the Lord.' Our feet are standing within your gates, O Jerusalem" (Psalm 122:1-2 NASB). We already have rooms booked at the magnificent Dan Jerusalem Hotel.
DAY 6 – MT. OF OLIVES, PALM SUNDAY ROAD, GARDEN OF GETHSEMANE, JEWISH QUARTER, TEMPLE MOUNT, CHURCH OF THE HOLY SEPUL-CHRE, SOUTHERN STEPS, BETHLEHEM – FEB. 2
We begin the day on the beautiful Mt. of Olives to behold the breathtaking panorama of the Holy City. Our pilgrimage will proceed down the Old Palm Sunday Road to the Garden of Gethsemane with its ancient olive grove, and the Church of Agony, where tradition holds that Jesus prayed. We will enter Jerusalem through the Zion Gate, and walk to the holiest site in the whole Jewish world, the Western (Wailing) Wall of Herod's Temple. Beyond the wall lies the 35 acre temple area purchased by King David (2 Samuel 24:18-25). On this site now stands El-Aksa Mosque, and the magnificent Dome of the Rock (the third holiest shrine in Islam).
From the temple area, we make our way to St. Stephen's Gate, to walk the Via Dolorosa – including St. Anne's Crusader Church, Pools of Bethesda, the Pavement (where Jesus stood while being tried by Pilate), Ecce Homo Arch, and the ancient Cardo. We continue to the Church of the Holy Sepulchre. A short walk takes us to stand on the original steps that Jesus walked on as he entered the Temple area. We conclude our sightseeing with a visit to Bethlehem. We pass by Rachel's tomb on the outskirts, and visit the Church of the Nativity and Shepherd's Field. We will have dinner and overnight in Jerusalem. After dinner we return to the Western Wall to visit the Rabbis' Tunnel.
DAY 7 – EIN GEDI, QUMRAN, MASADA, DEAD SEA FOR SWIM / FLOAT – FEB. 3
After breakfast, we begin our sightseeing as we drive to the Wilderness. The road from Jerusalem to the Dead Sea region is a drop of 4,000 feet within a 13-mile distance. Our first stop will be at Masada, where we will take a cable car to make our way up to the ancient fortress built by King Herod. Here we survey the ruins of fortifications, waterworks, synagogue, temples and palaces.
From here we drive to Ein Gedi where David hid from King Saul. Another short drive takes us to Qumran and the settlement of the first century sect known as the Essenes, authors of the Dead Sea Scrolls. Afterwards we follow the road south along the western shore of the Dead Sea. We can make a special stop at the Dead Sea (the lowest spot on earth) for a short swim (obviously, this is optional). Time and conditions permitting, we'll include a short visit to Jericho. Dinner and overnight in Jerusalem.
DAY 8 – SHRINE OF THE BOOK, MODEL CITY, CITY OF DAVID, HEZEKIAH'S TUNNEL, POOL OF SILOAM, ST. PETER GALLICANTU, GARDEN TOMB – FEB. 4
After breakfast we visit the Shrine of the Book Museum, where the Dead Sea Scrolls are displayed. You will be fascinated by the 1:50 scale model of Jerusalem, depicting how the city would have appeared in Jesus' time. Next we drive to an incredible archaeological find, the City of David. We have a short walk to Hezekiah's Tunnel (conditions permitting). Be sure to bring a flashlight and good water shoes with you, as you will get wet walking through the tunnel. If time permits we will have a short visit to see the new Pool of Siloam site. Afterwards we make our way to the Church of Agony at St. Peter Gallicantu. Then we visit Golgotha and the Garden Tomb for worship and communion. Overnight in Jerusalem.

DAY 9 – JERUSALEM, ELAH VALLEY, JAFFA, FARE-WELL DINNER, BEN GURION AIRPORT – FEB. 5
Morning at leisure in Jerusalem. We depart the city late morning/early afternoon and begin our sightseeing with a drive to view and visit the Elah Valley, and the brook where David slew Goliath. From here we continue our drive to Jaffa for a special farewell dinner at the Old Men and the Sea Restaurant or similar. Transfer to Ben Gurion airport for your flight back to the USA.
DAY 10 - DEPART TEL AVIV FOR U.S.A. – FEB. 6
We arrive back to the USA in the morning. At the close of an unforgettable tour, we take home wonderful memories of the Old and New Testament, a renewal of our faith, and a greater understanding of the life of our Lord.
Tour Cost (from various cities):
From: Houston, TX
Base Cost: $2,817.00
Taxes: $707.00
Tips: $150.00
Total Cost of the tour: $3,674.00
From: Little Rock, AR
Base Cost: $2,857.00
Taxes: $707.00
Tips: $150.00
Total Cost of the tour: $3,714.00
From: Orlando, FL
Base Cost: $2,872.00
Taxes: $707.00
Tips: $150.00
Total Cost of the tour: $3,729.00
From: Philadelphia, PA

*


Base Cost: $2,537.00
Taxes: $707.00
Tips: $150.00
Total Cost of the tour: $3,394.00
From: Pittsburgh, PA
Base Cost: $2,682.00
Taxes: $707.00
Tips: $150.00
Total Cost of the tour: $3,539.00
From: Raleigh, NC
Base Cost: $2,802.00
Taxes: $707.00
Tips: $150.00
Total Cost of the tour: $3,659.00

Included in the above prices are: all airfares, taxes, tips/gratuities, ticket fees, admittance fees, and meals morning and evening. All sight-seeing will be facilitated by our luxury motorcoach. Each day the hotel will provide a superb breakfast buffet (all-you-care-to-eat) and a superb supper buffet (all-you-care-to-eat). Lunch is up to you.

*Philadelphia has been selected as our central gathering point and overseas launch city. Regardless of what city you initially depart from and return to, Philadelphia is where we will all eventually meet to board the big Boeing 747 and fly out across the Atlantic. Tour members are welcome to arrange their own travel to and from Philadelphia and only pay $3,394 for the tour, or you can have your trip pricing include the journey from (and back to) your local depature city. If the pricing from your nearest major airport is not shown, contact us.

Trying to decide whether to get to Philly on your own? Bear in mind that not only may we be able to save you some money on fare from your nearest major airport, but also if your whole trip is included in one ticket package, then you only have to check your luggage once instead of twice, and you won't have to pay baggage handling fees. Remember these factors as you consider whether to get to Philly on your own, or as part of your overall tour package. Also bear in mind that you can have us set your dates into / out Philly so that you can spend some time there on your own. Philadelphia is an amazing city with a lot to see and do!