% write_header_contents() %>

<% write_border("top") %> <% write_border("right") %>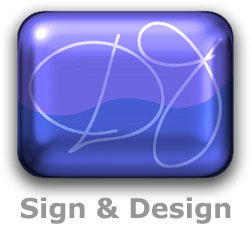 This page contains links to copyrighted design work for:
Sign Proposal for Olde Naples Pizza
Attention: Sergio
Sergio, the main signs shown in the quote below ...
are to be made from these kind of sign panels: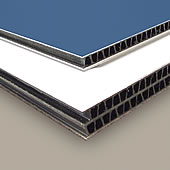 These panels have aluminum on the front and the back, and the paint is baked-on enamel.
These panels are made for outdoor use, will not hold water, are made to not mold or mildew or rust, and
the average expected life-span is about 10 years, although I have seen them last much longer.
(Some that I put in 20 years ago still look great.)
All letters and logos will be made of vinyl. The vinyl used is made for outdoor use, will not mold or mildew, and
the average expected outdoor life-span is about 7 years, although I have seen them last much longer.
(Some that I installed 20 years ago still look great, although the color has faded a little after that many years.)
Note: Click either of the two photos below to view the full-size, high resolution version of the photo.
Shown on this page (below): Quote for Front and Quote for Side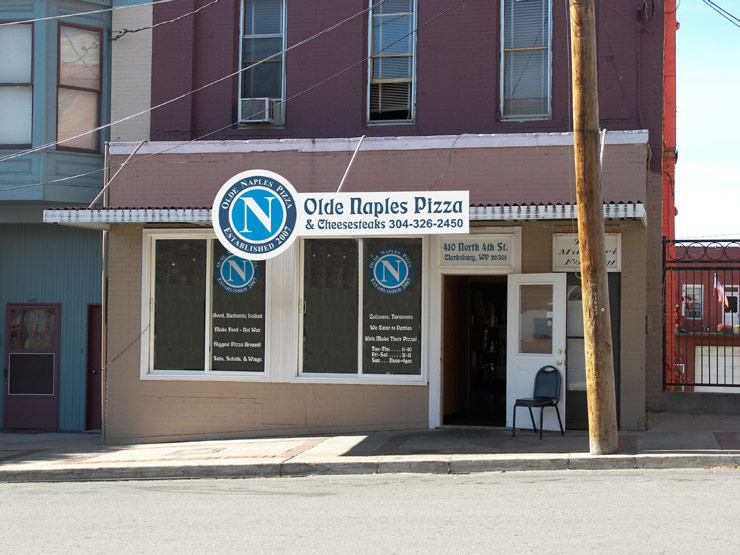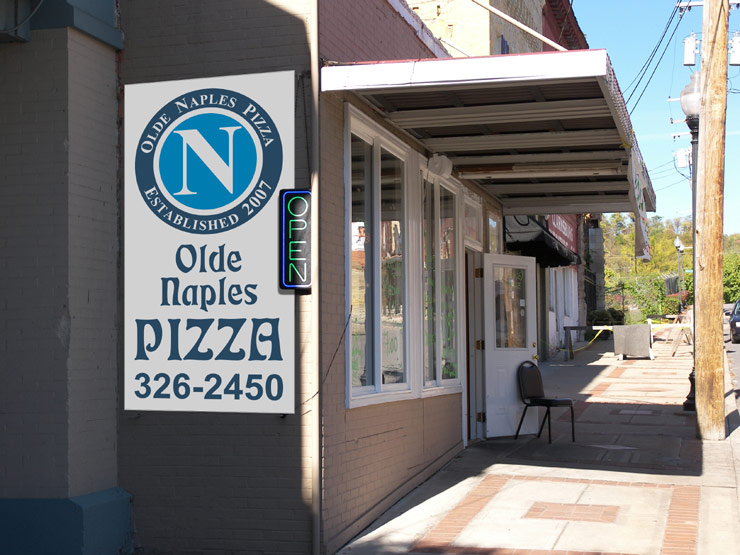 Details of all the signs:
As shown, we propose logos and signage for both of the windows that do not open, as well as logos and signage on sign panels for the awning front and the side of the building.
Financial Stuff:
The price of the whole project, including us making the signs AND installing them, and including tax, would be $1,976. Payment should be as follows: A down payment of $300 would be due at time of placing the order. The remainder would be split between the beginning of the installation and the completing of the installation. The installation process should take between 4 business days and 8 business days. So, in other words, half of the remainder, $838, would be due when we start installation, and the rest, $838, would be due at the time of completion, which should be only a few days later. As a bonus, if we receive the whole payment at the start of the installation, we will add in, and install, an additional full logo on the glass of the front door.
Should there be any problems with the signage within the first year (due to normal wear and tear, or faulty installation on our part), we will come out and make it right, no charge. The signage should give you years of trouble free service. When washing the windows that have signs on them, care should taken so as not to scrape at the corner edges of the vinyl.
For questions, or if changes are needed:
If there are any questions about this proposal, or if anything needs adjusted or edited, please contact me at:
Doug Joseph - DJ Sign & Design
Pastor of Christian Apostolic Church
Email:
pastor@cac.us.com
Phone:
Cell: 304-629-1196
Home: 304-624-1388
Church: 304-624-4459
Snail Mail:
Route 3 Box 303C, Clarksburg, WV 26301